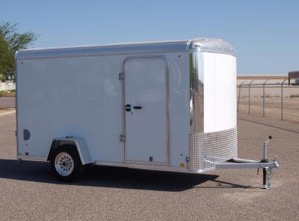 When you buy a cargo trailer, you want it to meet your needs. Fortunately, there are many ways to customize cargo trailers to your specifications. We offer a wide range of options for every type of enclosed trailer, inside and out. Sure, you can choose your options one by one, but many people prefer the convenience of upgrading with a trailer package.
What is a trailer package?

The term trailer package refers to a group of options that provide a set of features that are popular among customers. We offer packages for snowmobilers, landscapers, auto haulers, camping enthusiasts, and more, including the Glare Package.
Choosing the Glare Package allows you to upgrade your closed trailer with features that provide durability and an eye-catching exterior. 
For added durability, the Glare Package includes tube mainframe construction, bonded sidewalls, and a silver TPO front cap. TPO (thermoplastic polyolefin) is a long-lasting membrane that keeps out moisture. 
To provide extra security and visibility, the package includes LED lights, a dome light and switch, and cargo vice locks on all doors.
And, the Glare Package doesn't leave out looks by giving you a painted silver A-frame and roof bows and a painted gray floor—plus that slick silver front cap.
Cargo Express trailers come with a host of standard features you'll love. But if you want to give your trailer an extra boost of looks and strength, the Glare Package can be the answer to your towing needs. Visit your local Cargo Express dealer to get the details on all our trailers and trailer options.