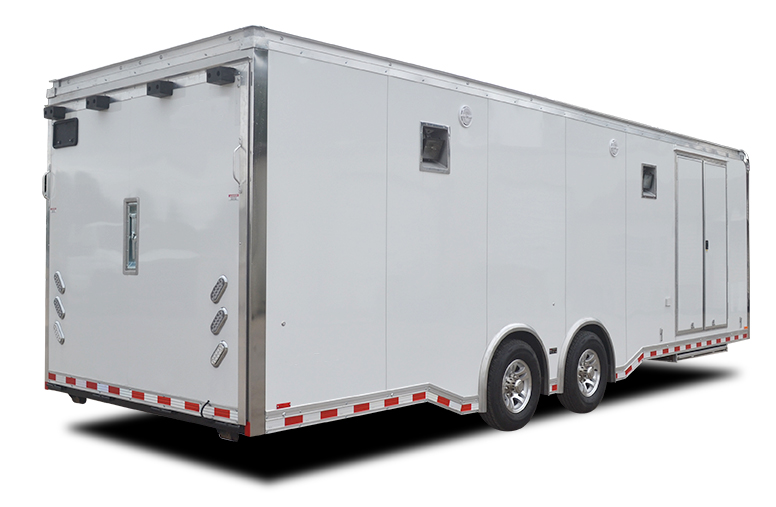 LOOK Trailers, manufacturer of LOOK, Pace American and Cargo Express trailers, has redesigned the premium line of race trailers for all three brands. The redesigned models include the LOOK Premier, the Pace American Shadow GT, and the Cargo Express Pro-GT. The trailers have been enhanced with a more polished, streamlined appearance that will appeal to professional racers.
Many of the product upgrades eliminated mechanical fasteners and end cap trim to give the trailers a sleek, modern design. Rather than using pre-cut parts, trailer components are custom cut to fit each trailer, which eliminates the need to cover gaps with caulk. The result is a better finished product.
The new standard stainless steel front corners, rear corners, and top wrap set these models apart as true high-end race trailers. The polished aluminum front casting features dimensional, full-color logo decals and was redesigned to accept the largest top trim. Heavy-duty extruded aluminum fenders eliminate sharp edges on the wheel well. A notched, custom cut stoneguard provides a streamlined appearance and protects the bottom frame. The rear ramp door was redesigned with a recessed horizontal camlock, which provides a cleaner look without weakening the door. Other standard features include a screwless .040 aluminum exterior, a new aluminum slide out step, 5 ½" tall bottom trim, LED bullet lights with chrome bezels, and metallic decals.
According to Steve Hartman, Vice President of Sales, "Our trailers have been popular among racers, but the new features are going to take our race trailers to the next level."