Trailer Parts Depot – a low-key staff providing big-time customer service
Trailer Parts Depot out of Oshawa, Ontario is home to a low-key staff providing big-time customer service. Working with just a staff of three individuals, this motivated team makes each purchase count, from the sales floor, minor customizations and everything in between. Along with a bookkeeper, there are two salespeople who take care of parts selling, making sure the trailers are ready and prepped for the day, as well as performing the most important task, the customer interaction. These Jacks-of-all-trades work hard selling Cargo Express trailers to the local community.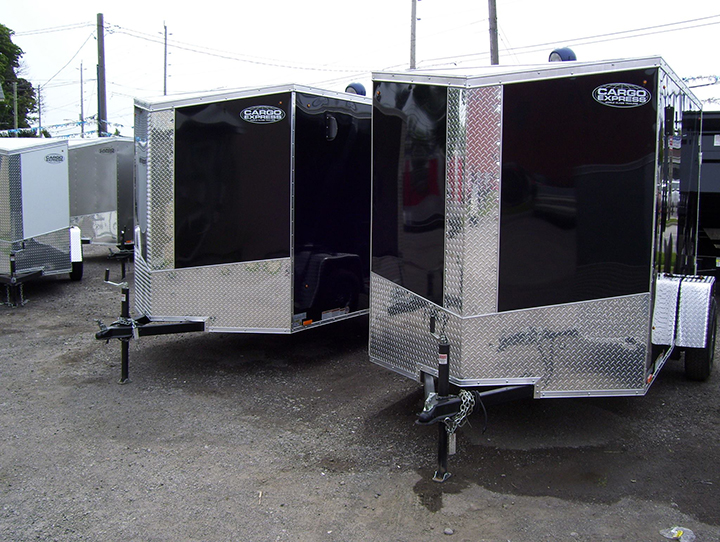 Speaking recently with the owner, Paul Vandeloo, Trailer Parts Depot began as a trailer parts shop, hence the name, about six years ago. It didn't come about until later that they would move on to offering customers the full-trailer experience as well. Speaking about their time early on, Paul recalled that, "We found that [Trailer Parts Depot] was gaining quite a few clients, and those customers wanted us to deal in trailers as well." What seemed like a perfect match considering the business they were already in, Paul decided to align with Look Trailers, and as they say, the rest was history. 
Once transitioning to both parts and trailer sales, Paul and his staff came to find that customers were looking to get their hands on trailers that continued to have more and more options right out of the gate. Carrying Look Trailers at the time (a part of LGS Industries), the options being requested were not typically available, not even by the competition. So, as time went on, the Cargo Express line of trailers (also under the LGS company umbrella) grew organically from this need to offer something a bit different that suited various types of consumer needs. Today, Trailer Parts Depot is able to offer its visitors their choice in trailer, from utility, boat, landscape, equipment and of course, cargo. 
As for the relationship between Trailer Parts Depot and the LGS brands, Paul stated that, "We've been working with Kevin [a sales rep], and he's been very accommodating." Paul would go on to say that they get along well with the Cargo Express and Look Trailers' customer service team. 
While Trailer Parts Depot's focus is on parts, cargo lines and service work, this doesn't mean customization is completely off the table. In fact, Trailer Parts Depot handles a lot of interior custom works, focusing on windows and elements that include power, such as outlet locations and the like. Really, the team's forte rests in the knowledge they bring to the parts department, a piece of the trailer-owning experience that customers can find immense value in. 
When asked about the difference between Cargo Express trailers and the competition, Paul said it really came down to how the Cargo Express line stands out on the lot. "While every company has growing pains, the quality of [Cargo Express trailers] is a lot better. Nicer than the rest of the industry." Paul mentioned some features that really stand out, such as the quality of the side-doors, the one-piece roof, as well as the aluminum treadplate accents added to many of the units. He went on to say that these are, "Things that really add to the value of the trailer, and people like it." And, when it comes to affordability, Paul was confident to report that, "Price per Cargo Express trailer versus the other trailer manufacturers doesn't even come close." So really, it's not just the quality of these trailers that make a match with dealerships a no-brainer, it's the affordability to the public as well. 
Always looking to expand their lot and offer customers a great experience when they step foot onto the property, Trailer Parts Depot has a building in the works that they hope will eventually be a permanent piece of their customers' trailer-buying interaction. This current location is ideal, as it affords them plenty of space for their assortment of trailer parts and models, while being adjacent to a busy road that is great for exposure. This means that when you're in the area, you can't miss them. Both a testament to the quality of Cargo Express trailers and the attention to detail this dealership brings to the market each and every day, Paul is proud to say that, "When customers first come to the lot, we get compliments about the look of the trailers." So, next time you're looking to purchase a new Cargo Express trailer or simply want to find parts and accessories to make your cargo hauler even better, stop on by Trailer Parts Depot, where the staff size may be small, but their expertise in all-things trailer related remains unmatched. 
Trailer Parts Depot
Paul Vandeloo
235 Bloor Street East
Oshawa, ON L1H 3M3
Tel: 905-432-2000
http://www.trailerpartsdepot.ca