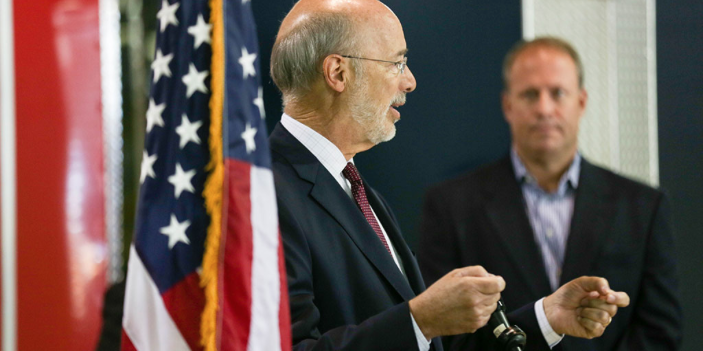 Harrisburg, PA – Governor Tom Wolf today helped celebrate the opening of a new facility for LOOK Trailers, a trailer manufacturing company, in Wright Township, Luzerne County. This project will create 65 new, full-time jobs at the site.
"Manufacturing work, like that being done here at LOOK Trailers, is critical to our economy," Governor Wolf said. "It is what Pennsylvania was built on, and that is why I am committed to continuing to work with the private sector to support robust business growth. That is also why I also recently established a tax credit for manufacturers who create jobs right here in Pennsylvania."
Partnering with the Governor's Action Team — an experienced group of economic development professionals who report directly to the governor and work with businesses that are considering locating or expanding in Pennsylvania — in collaboration with the Greater Wilkes-Barre Chamber of Commerce and Penn's Northeast, LOOK Trailers established a new manufacturing operation at an existing 84,339-square-foot building on Oak Hill Road. The company will invest at least $2.3 million at the new site, where it will manufacture enclosed cargo trailers, and will create at least 65 new, full-time jobs over the next three years.
"Today's celebration is a reminder of why LOOK Trailers chose Pennsylvania as the best place to create jobs and invest in the local economy, "said Matt Arnold, President of LOOK Trailers. "The support and collaboration of Governor Wolf and the many state and local officials that have welcomed us to the community has reaffirmed our commitment to making Luzerne County our home for many years to come."
The company received a funding proposal from the Department of Community and Economic Development that includes $130,000in Job Creation Tax Credits to be distributed upon creation of the new jobs and $15,750 in WEDnetPA funding for employee training.
LOOK Trailers, founded in 2010, has been labeled the fastest-growing enclosed trailer company according to Statistical Surveys Inc. LOOK Trailers manufactures a wide variety of enclosed steel and aluminum trailers including cargo, auto hauler, ATV, snowmobile, and race. LOOK also manufactures Pace American and Cargo Express enclosed trailers across four facilities throughout the United States.
For more information on LOOK Trailers, visit www.looktrailers.com.
For more information about the Governor's Action Team or DCED visit dced.pa.gov.