CARGO EXPRESS HANDLES ALL YOUR HAULING NEEDS WITH THIS DELUXE TRAILER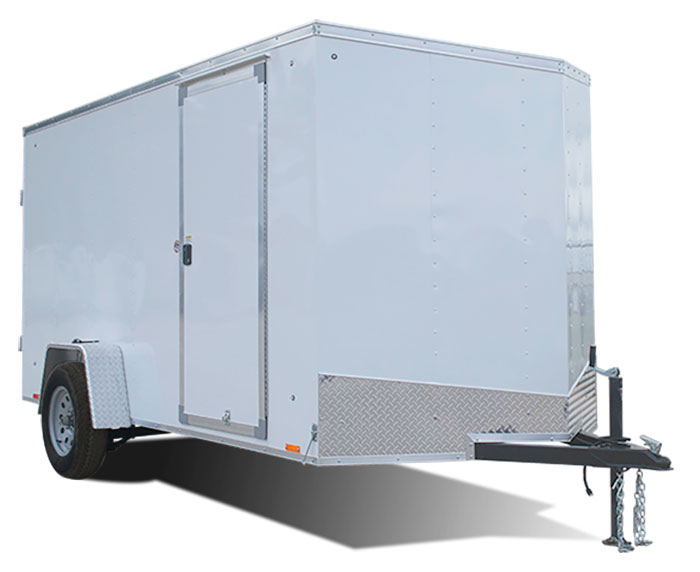 This month at Cargo Express, we're talking about versatility. And, what's more versatile than our EX DLX enclosed cargo trailer and its wide range of spacious sizes? Coming in convenient 5-, 6- and 7-ft. wide configurations (or 8.5' wide), the EX DLX is a deluxe trailer that complements any tow you throw at it. 
Every Cargo Express covered trailer is primed to keep your cargo safe and secure, whether the elements are hot, cold, rainy or kicking up plenty of debris. Riding on the EX Series, the DLX (which stands for deluxe), brings with it the same tube main frame construction you trust for your haul, as well as an interior wall liner, flat or round top one-piece aluminum roof and an aluminum exterior that keeps the tow light and agile. 
The EX DLX cargo trailer was manufactured to cover all your bases. In fact, this is the economy trailer that does it all. Coming in wedge slope nose, round or flat top, and a single or double rear aluminum framed door (depending on your size preference) this deluxe trailer allows you to transport cargo of all shapes and sizes. And, since we know these trailers are going to be seeing a lot of use in the field and under an assortment of environmental conditions, these trailers were built to last with ATP fenders, a 16" stoneguard, spring axles and more. 
DELIVERING ALL THE DELUXE TRAILER FEATURES OUR HAULERS NEED 
At Cargo Express, we know you want as many features as we can throw at you. Thankfully, the EX DLX covered trailer has a long list of standards, which means you won't have to implement many (if any at all) additions to make this cargo trailer perform at a high level. For landscapers, the EX DLX is perfect for a variety of jobsites, while families will appreciate the interior space and convenient access these trailers provide when taking extended vacations, moving kids off to college or simply traveling across the country. 
Keeping things simple for our haulers, the 5' wide trailer makes quick trips and low-maintenance jobs a breeze, but also keeps the same standards you expect on a trailer that's considered "deluxe." When you opt for the 6' and 7' wide models, you'll find you've got a double rear aluminum framed door and an aluminum framed 32" wide side door. With that much access to the things you need, you'll have your whole crew working more efficiently than ever. 
Not convinced? Take a look at some of the other covered trailers we have, right here.
STANDARD KEY FEATURES AT A GLANCE:
Tube main frame construction
Spring axles
4-wheel electric brakes (tandem axle)
Slope wedge nose
Round or flat top
One-piece aluminum roof
ATP fenders
16" stoneguard
LED tail and clearance lights
Limited 3-year warranty
SOME OF THE EX DLX'S POPULAR TRAILER OPTIONS:
Ramp door upgrade
Rear stabilizer jacks
Extra LED dome light
Non-powered roof vent
12" ramp extension
15" radial tires
Spare tire
Interior spare tire carrier
Surface mount rope rings
Brake axle upgrade
Standard upgrade colors: charcoal, silver, pewter and champagne
Premium upgrade colors: blue, red and brandywine
You can find the EX DLX covered trailer for sale and all its deluxe trailer features at a nearby Cargo Express dealer. Now you're just one click away from the ultimate in hauling convenience.