An Efficient Cargo Camper Trailer that Won't Break the Budget from Cargo Express 
There's no better time than summertime to break away, unplug from the busyness of daily life, and take the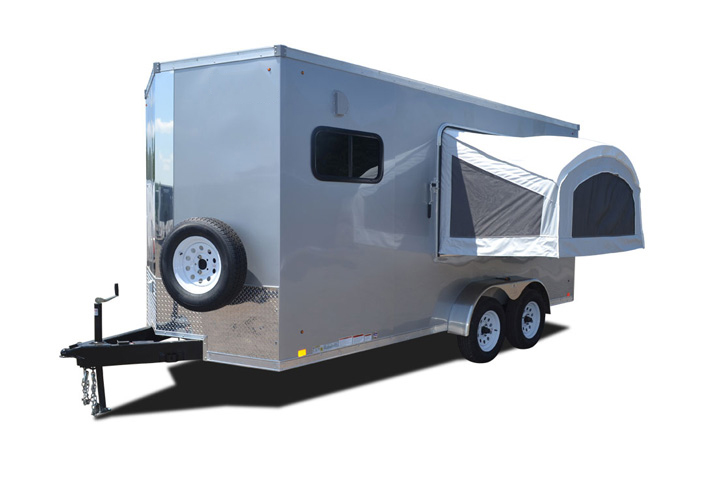 family on a camping adventure.  With summer full upon us, the nights are now long, the kids are out of school, and naturally we feel the urge to retreat and unwind in Mother Nature. Summer travel, airline costs, hotels, and other expenses can make a vacation more stressful than it should be. Not only does camping allow for numerous ways to enjoy the great outdoors and warm weather, it can be the most frugal way to enjoy a family vacation. Camping is a more cost-effective summer vacation that provides for endless destinations to see and the incredible memories that come along with them. But, camping can also come with hefty start-up costs, such as gear that helps you sleep comfortably in the great outdoors. And, state-of-the-art camping trailers can be extremely expensive. We're sharing tips for affordable and fun camping, including the benefits of the Cargo Express camper trailer package. Whether you're setting out for the first time in a new cargo camping trailer or you're a seasoned pro, enjoy some money saving ideas for this summer. 
Cargo trailers that convert or include a camping package allow you to store and haul your day-to-day cargo and other essential gear, while serving as a comfortable and convenient shelter. Don't break the budget on an over-priced camper trailer when Cargo Express' Camper Trailer Package allows you convenience, comfort, safety, and lightweight hauling to make the most out of a trek wherever Mother Nature calls you.   There are a number of customizable features to ensure the most comfort and convenience in your Cargo Express camper trailer package, making it a fun and affordable summer camping must-have. 
Choose from a double or queen sized bed
Upgrade tube walls on XL Series trailers
6" extra height to be added to 6' wide trailers
Queen sized bed may require 12" extra height depending on model 
Other Tips to Save on Camping Trips 
Stay off the grid – Normally, camping sites come with a cost, but primitive or back-country sites are much cheaper than those with amenities. Plus, they're typically very private and tucked away from other campers. Consider a national forest that might be nearby. While there can be fees for developed campsites that include picnic tables and bathrooms, you are allowed to camp for free in national forests as long as you adhere to their established guidelines. If your camping does take you to a national forest, consider purchasing an annual pass to cut costs even more, as it pays for itself in four trips. There are also additional discounts with national forest passes for senior citizens and people with disabilities. An $80 pass grants access into all parks an unlimited number of times in a 12-month period. The pass also works at other federal recreation sites, including national wildlife refuges, national grasslands, Bureau of Land Management and Bureau of Reclamation areas. Some parks also sell an annual pass that admits you to that particular park an unlimited number of times a year for a lower fee.
Forgo expensive camping gear by using what you already have – camping gear can be pricey, adding up to hundreds by the time you even gather the basics. With an affordable Cargo Express enclosed trailer with camper package, you can cross the tent off your list. Bring food from home and pack a travel pantry. Gather up blankets and comforters that are great for cold nights in lieu of expensive sleeping bags. Plastic dinnerware and household pots and pans can be used instead of disposable plates and costly camp cookware.
Borrow, buy used, or trade other essential gear – Camping gear can take up a large amount of storage space in the garage, and can also add up in costs. Scour garage sales, Craigslist or even eBay for gently used camping gear. Buy what you're not able to borrow from friends, family, or neighbors.
Bring your own firewood – There is nothing more inconvenient than pulling up at night to your destination camping site to find a $10 charge for firewood. Oftentimes, local gas stations and grocery stores have firewood on hand for half the price, so load up before you hit the road. Many U.S. Forest Service areas allow people to chop a cord or more of firewood after obtaining an inexpensive permit. Some campsites allow visitors to gather downed wood to use in their fires. Be sure to check local rules and regulations and obtain permits when needed.
Make your own ice packs to keep food and drinks cold – filling recycled milk or juice jugs with water and freezing them ahead of time is more cost effective and can provide more cooling power than buying bags of ice or loading up on reusable ice packs.
Double check your packing list – checking your list once more before leaving home for your camping trip is essential. Oftentimes, you'll end up paying up to three times the normal price of forgotten essential items from a small country convenience store or stores near campgrounds. Make sure when packing that you consider all of the items you'll possibly need to cook, eat, bathe, and protect yourself from the weather elements, like sun and insects, as well as unexpected weather changes, like thunderstorms. If you're planning on parking your camper trailer at a location near public bathing houses, you will need to bring your own shampoo, washcloths, towels and shower shoes. If you have kids and plan on swimming at a pool or lake, you will need to pack water shoes, swimming suits, sunscreen and safety gear. 
Camping is one of the most fun memories and benefits of summertime. We hope you will make the most of the tips provided and make new memories with your friends or family, while enjoying a vacation that fits any budget. There are so many other ways to cut costs on summer vacation. Camping itself is a money-saving move, and the affordable options that come with a Cargo Express camper trailer package are sure to make you one happy camper.
If you're ready to head out and begin making unforgettable memories in the great outdoors with your family, choose the camper trailer package to get you started right. Our easy-to-use trailer dealer locator will help you find the enclosed camper trailer to ensure affordable and fun camping wherever you have in mind.