ENCLOSED CARGO TRAILERS CAN SAVE MONEY AND OFFER FLEXIBILITY FOR BUSINESSES ON WHEELS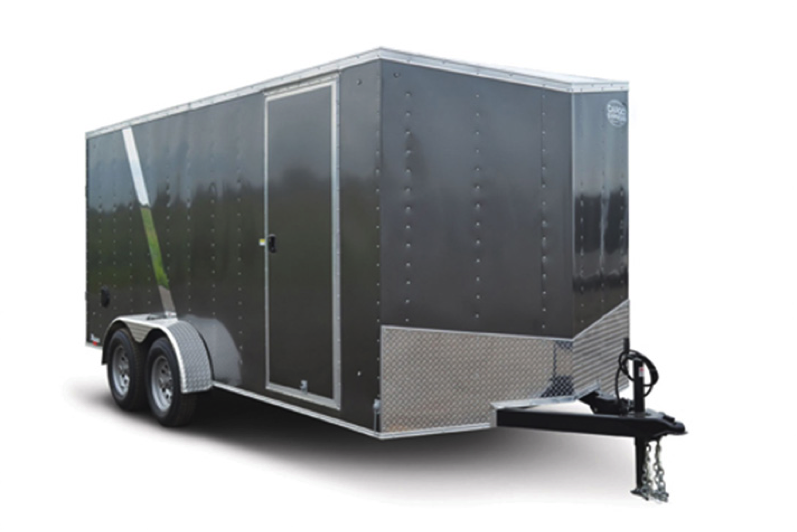 So, you want to start a mobile business? There are so many choices besides food trucks! Today, all you need is an idea, a store on wheels (such as a cargo trailer), some customization, a permit, and you're ready to open shop.
Mobile businesses have been gaining popularity since the late 1980s when consumers had more disposable income, but less time to shop and run errands. Savvy entrepreneurs realized they could make money by bringing goods and services to the client instead of the client coming to them. More recently, people have started mobile businesses to take advantage of the flexibility, economy and novelty they provide.
Food trucks are all the rage, but popular mobile businesses that can be housed in cargo trailers also include mobile fashion trucks, hair salons, dog groomers, tax preparation services, auto maintenance, art studios, photo studios, and specialty recyclers—to name just a few.
Benefits of a mobile business:
Cost. As noted above, the minimum you need to set up your mobile business is a set of wheels, your service or merchandise, and the cost of a permit for the set-up location. Though the total cost can range from a couple thousand dollars to well over $50,000, depending on your needs and how much you want to customize, many mobile business owners find they can get started for $5,000-10,000. Whether you spend a lot or a little, it's far less than you would pay to rent retail space in a prime location. A mobile business is also a great way to get started without a major investment.
Flexibility. With a mobile business, you can work when you want, pretty much wherever you want. Maybe you just want to work weekends or you have a side business that lends itself to weekend or evening hours. Perhaps you have an online store, but want to give your products visibility at major events where you can hand out samples and raise awareness. Or maybe your service or product is seasonal (such as a Halloween costume shop or a sprinkler business). A mobile business allows you to pick and choose your times and locations.
Novelty. Remember how excited you got when you heard the ice cream truck music? Today when we have so many cookie-cutter stores and chain services, it's more important than ever to stand out from the crowd. With a mobile shop, you can create an atmosphere of excitement around your product because it's only at certain places at certain times—don't miss it! Participating in pop-up events gets you a lot of attention fast, and you can take advantage of shared publicity. A mobile service gives you an advantage because you come to your customer and can offer more personalized attention.
Putting your business on wheels:
How to make it mobile. A mobile business runs on wheels, and you have lots of choices, including enclosed cargo trailers, school buses, vintage trailers and box trucks. Your choice depends on the type of business, your personal preferences, and budget.
No doubt, tricked out school buses and vintage trailers look cool. But a cargo trailer conversion has several advantages.
Lower up-front cost. Even new, a Cargo Express cargo trailer typically costs less than a truck or bus with similar square footage. And, if a used bus or box truck does come with a low price, you still have to renovate it and keep it maintained with oil, engine and part repairs, etc. Plus, the most affordable vehicles usually come with a lot of miles on them. A new enclosed cargo trailer comes with a clean, good looking interior and exterior, and is ready to customize.
Less hassle. A truck or bus is considered a commercial vehicle. This fact can make it more difficult to finance. On the other hand, you can usually finance a cargo trailer with a personal loan—much easier to get. In some states, too, driving a commercial vehicle may require a special license and insurance. Also, many of the used buses and trucks you'll find available have a manual transmission, and fewer drivers today know how to operate one. (Be sure to check your local rules and regulations as they vary from place to place and can change from year to year.)
Flexibility.  You will need to tow a cargo trailer, but you may already own an SUV, minivan, pickup truck or similar type of vehicle. If not, it is often much less expensive to purchase one used along with a new cargo trailer, than it is to buy a bus, box truck or mobile home. Plus, you can simply unhook the vehicle from the trailer and use it for running errands and picking up supplies when you aren't vending. And, it's often easier to park and garage a small cargo trailer than a school bus or truck.
Whatever type of 'store on wheels' you choose, consider the size and weight capacity. There is no "right" size for your mobile business. However, the American Mobile Retail Association notes that the average cargo space of a mobile boutique is 10-18 feet in length. Whatever size you choose, make sure the weight capacity can handle everything you plan to put in the trailer or vehicle.
Again, your entrepreneurial style, budget and driving preferences can help you to decide.
Outfitting your mobile business:
Once you have your wheels, you'll want to customize it to meet your business needs. At minimum, most businesses will require a generator, a worktable or counter, lighting, and storage or display space. 
Functional elements can also include:
a sink and running water (dog groomer or hair stylist)
a rack or rods for hanging clothes (boutique)
screened-off area for changing clothes (boutique or photographer)
shelving and cabinetry (boutique, tax preparer, auto maintenance)
electrical outlets (a necessity for most businesses)
non-skid flooring (practical for most businesses)
portable steps (to enter the side door)
The next step is decorating to sell. Mobile entrepreneurs sometimes hire rehabbers and decorators to personalize the interior, but that can get expensive. Others prefer DIY. If you choose an enclosed cargo trailer, you can simply paint or apply wallpaper to the interior walls and lay some colorful and inexpensive vinyl on the floor. Attach shelving, racks, and cupboards from your favorite big box or rehab store, and add an interesting table, chairs, and décor from your local thrift shop. 
Or, choose from a variety of options from your cargo trailer dealer to make the walls, floors and furnishings function for you. It may cost a bit extra, but you'll know everything fits and works well together.
The same guidelines apply to the exterior. Hire someone to sand and paint or choose from a variety of cargo colors. In both cases, you may opt to apply a wrap, decals, or painted logos to advertise and identify your business.
Once you have your business-on-wheels all tricked out, check with your vending locations and local officials to be sure you have the proper insurance, permits, and vendor fees. Then, chart your course and hit the road!
The Cargo Express EX Series offers a wide range of cargo trailer sizes and cargo trailer dimensions, all perfect for starting a mobile business on a budget. Available in 4', 5', 6' and 7' wide models, this light-duty trailer fits the bill for most hauling jobs.
Now that you're more prepared to start your own mobile business, use our Dealer Locator to find a Cargo Express trailer dealer near you!