Cargo Express' Enclosed Car Trailers Get You There Safely and In Style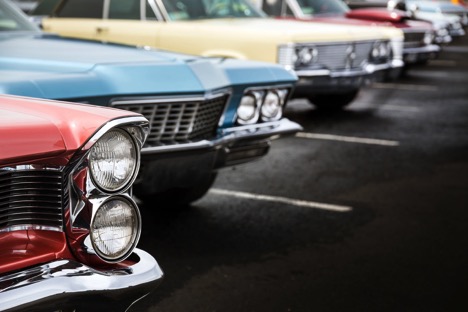 Maybe you've driven by a classic car show, seen a flyer, or just noticed a few classic cars riding along the highway and wondered what it would be like to own one—or meet up with other owners. Part of the fun of owning a classic car is showing it off to others and talking about it—telling the story of how you found it, fixed it up, the memories it evokes, and the fun of having something special. Plus, you'll even receive trading advice on upkeep, parts, and how to find other classic car meet-ups. You can even win prizes!
The social nature of this hobby makes it easy to get involved. Most of the time, all you need to do is find a classic car and then ask around. Once you really get into the hobby, you may also want to purchase a car trailer so you can take the car to shows at a distance without adding to wear and tear or mileage.

Step 1: Find a vintage car to buy. If you don't already have a classic car, there are several ways to find one. First, do some research into the type of car you want and what the price range might be. It also helps to know if you want to purchase one that has been restored or you want to do the restoring yourself. The website, classics.autotrader.com is a good place to start. You can also try other online sources, such as Craigslist.org. If you don't know what make and year you want yet, just type in classic and see what comes up. You might also ask around at your local car mechanics—especially if you've seen classic cars there from time to time. Another source is at a classic car meetup.
Step 2: Find a cruise night. Cruise nights tend to be more casual than car shows, so it's easy to drop by, look at the cars, chat with the vintage car owners, and pick up a wealth of information. In summer, you're likely to find cruise nights on weekends at a nearby social club; auto parts dealer or other business with a big parking lot; ice cream spot, diner, or other outdoor eatery. Watch for signs and fliers, search Facebook for cruise nights in your area, or do an internet search for "cruise nights near me" or "cruise nights in [your state]." With the latter searches, not only will you pull up area cruise nights, but you will probably find results for classic car associations in your area. If so, they can be a wealth of information on classic cars and probably have a calendar of cruise nights and regional car shows listed right online.
Step 3: Enter a car show. Whereas cruise nights are usually come one, come all, classic car shows are often divided into categories. There are shows for single makes of cars, cars made in a particular country, small cars, muscle cars, antiques, trucks—you name it. Through your cruise night buddies, regional classic car association, or an internet search, you'll be able to find out when the show is happening, if your vintage vehicle is eligible, and information on how to enter.
You may just want to attend as a visitor before entering, so you can get the lay of the land and pick up on the details that make a classic car a show stopper—and trophy winner, if that's your aim.
Tips for impressing your fellow classic car enthusiasts—and the judges:
Make sure the car is clean, inside and out. Your vintage car may have great chrome fins and candy-colored paint, but dirt, dust, and smudges will keep it from showing at its best.
Check the tires. Showing a car with worn tires is like wearing a tuxedo with brown shoes. It kills the look and presentation. Judges will notice tires that are worn, the wrong size, or don't have a good overall appearance. Some classic car owners go so far as to bring an extra set of tires specifically for the show.
Check under the hood. A dirty engine will reflect badly on your classic car, no matter how detailed it is on the outside. Clean the engine with a quality degreaser and metal polish to keep everything looking spiffy for the judges.
Step 4: Transport it properly. To keep the car clean and unmarked, and to prevent wear and tear, it's best to haul your vintage ride to the car show in an enclosed car trailer. A Cargo Express enclosed car trailer comes in a range of types, from the lightweight AX Series aluminum enclosed car trailer and the economical EX Series, to the XL Series mid-line auto hauler and Pro Series premium car trailers. Each keeps your classic car safe and clean—ready to go to that next show, whether it's across town or across the country.
Even if you're just starting out, you can find a Cargo Express trailer that won't break the bank but will protect your investment.
Here are the Standard features on the EX Series:


Tube Main Frame Construction
• 24″ O.C. Frame TE2
• 16" O.C. Frame TE3
• 24″ O.C. Sidewalls
• 16″ O.C. Roof Bows
• Spring Axles
• EZ-Lube Hubs
• 4-Wheel Electric Brakes
• 15″ Tires
• 2-5/16″ Coupler
• Safety Chains
• 2000# Tongue Jack
• Sand Pad
• Triple Tube Tongue on TE3
• 3/4″ Floor
• Interior Wall Liner
• Aluminum Exterior
• 1 Piece Aluminum Roof
• ATP Fender Flares
• 24″ Stoneguard
• Ramp Door w/ Spring Assist & 16" Ramp Extension
• 36″ Entry Door w/ Cam Bar and Recessed Step
• (2) Sidewall Vents
• 7-Way Plug
• LED Tail Lights & Incandescent Clearance Lights
• (2) Dome Lights & Switch
• Beavertail
• (4) 5000# Recessed Bolted D-Rings
• Moisture Barrier (IN & UT)
• Automotive Undercoating
• Limited 3 Year Warranty
Now that you know how to find and show a classic car, use our Dealer Locator to find a Cargo Express trailer dealer near you!