CARGO EXPRESS TRAILER ADVANTAGES INCLUDE CONVENIENCE AND SECURITY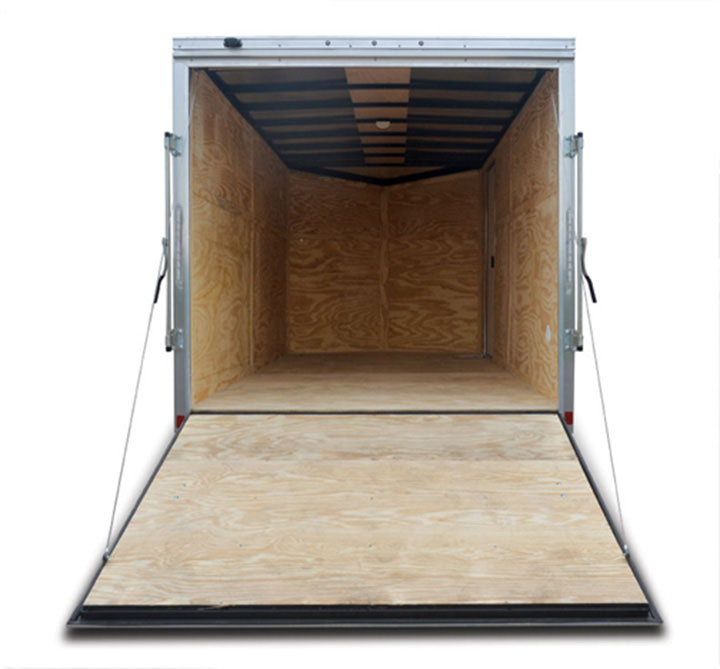 Whether you're just starting or expanding a landscape, construction, or other business where you take your tools and materials with you—at some point you have to ask yourself the question: "What's the best way to transport my tools, materials, and equipment to and from the job site?"
There's no doubt that if you're in a field like this you already have a pick-up truck or SUV. However, once your business expands, you have a transportation dilemma. Your choices typically come down to a box truck, commercial van, or enclosed cargo trailer.
Box trucks and vans have their advantages. They offer an all-in-one driving experience. They are fairly easy to park. Plus, though each can carry a lot of cargo, they are more compact than a pick-up/trailer combination.
But, these choices also have drawbacks. Unless a box truck has a separated cab for the driver, it can be hard to keep the heat regulated in winter. Trucks and commercial vans are also susceptible to more permit, licensing, and insurance requirements, depending on the state. New trucks and vans are usually more expensive than enclosed cargo trailers, and used versions cost time and money in upkeep.
CARGO TRAILERS HAVE THE FOLLOWING ADVANTAGES:

Convenience
A pick-up or SUV, plus trailer, gives you options. You can use them both to haul more to the job site. But, if you need to run errands or see another client during the day, you can unhook the trailer and just use the truck. You can even leave the cargo trailer at the job site overnight and come and go with the pick-up alone. Or you can unhook the trailer at home and take the truck to go out to dinner, your kid's soccer game, or attend other planned activities with ease.
Organization
Vans are often too small to organize properly—tools, boxes of materials, extra clothing, and gear end up all jumbled. Box trucks are big empty spaces. A Cargo Express enclosed trailer can be customized to your needs with e-tracks, shelving, recessed compartments, and many other ways to keep your stuff neat, organized, and ready for work.
Cost
Even a brand-new cargo trailer usually costs less than a new box truck or van, and you don't have the maintenance, repair, fuel, and commercial vehicle expenses.
Reliability
Any vehicle will break down sometime, and usually it's at the worst time. If a van or box truck breaks, you're stuck. But, if your pick-up or SUV won't start, just hook your cargo trailer to another vehicle and go.
Safety and Security
Your cargo is valuable. From tools and equipment to business supplies and toys, an enclosed cargo trailer keeps your possessions safe from the elements, intruders, and theft, as complete enclosure prevents others from viewing your haul.
Customization
What you haul is unique to you. Cargo Express offers trailer sizes in a variety of heights, widths and lengths. Whether you're carrying automobiles or motorcycles, camping equipment or landscaping tools, you can use every bit of space from floor to ceiling, and end to end.  What's more, you can customize your enclosed trailer with cabinetry, tie-downs, recessed wall or floor e-track, sinks, slot walls, and many more options to enhance safety, security, convenience, and comfort.
Sometimes, choosing a cargo vehicle for your business or hobby comes down to personal choice. However, if you want to see all the advantages of an enclosed cargo trailer, visit your local Cargo Express dealer.