TIPS FOR TRAILER TOWING SAFETY AND STORAGE FROM CARGO EXPRESS
Do you put away your cargo trailer for the winter or keep on hauling? Either way, Cargo Express has got you covered, with tips for winter storage or warm and safe travels.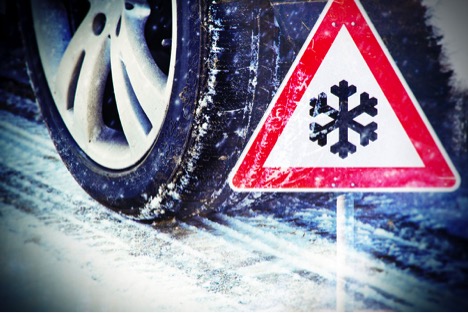 If You Keep on Hauling:
Whether you use your cargo trailer in snowy and icy conditions for work or pleasure, we recommend the following precautions for trailer towing safety.
1. Maintenance
Make sure your towing vehicle is in good working condition. Keep fuels topped off, have brakes and lights checked, and have your tires filled to the proper pressure. Switch to snow tires if appropriate for your vehicle and conditions, and add chains if needed and allowed in your state.
Check the hitch connections, lights, and tires on the cargo trailer. Cargo Express recommends performing regular maintenance on your trailer, but if you've been lax in the past, now is the time to make sure everything is working well.
2. Driving
Review driving conditions before you set out. With so many weather and GPS apps available today, it's easy to see what's down the road, literally, before you leave. With knowledge about weather and traffic along the way, you can plan a safer route better suited to towing a trailer or even decide to wait until conditions improve.
Leave extra time. Not only should you leave early so you can take it easy on icy roads, but allow plenty of space between you and the vehicles ahead. It can take twice as much time to stop your tow vehicle on slippery roads than dry, and you have to account for your cargo trailer stopping, too. Caution should be your watchword.
Wear your seatbelt. Even if you're just towing the trailer a short distance, be sure to buckle up.
3. Staying warm
Carry a "winter" kit. In an emergency, or just if you're going to be outdoors a lot, you'll want to have extra blankets on hand. Wool or lightweight insulating blankets are good options. Other items to keep in your kit include "hot pockets" for warming your hands and feet, an extra set of thermal gloves, a sleeping bag rated for below-zero conditions, a snow shovel for digging out, and energy or granola bars. Keep water in a place where it won't freeze.
Insulate. If you're going to be working inside your cargo trailer—or just hanging out—consider adding insulation. Warming your cargo trailer can be as simple as putting down a rug, hanging curtains over windows, and putting insulation in ceiling venting. You can also insulate the walls with blueboard or silverboard; there are many DIY videos on how to do this.
Upgrade to a heater trailer package. If you use your cargo trailer for hauling winter toys like snowmobiles, Cargo Express' heater trailer package will keep you and your cargo warm and safe. 
The heater trailer package includes:
34,000-BTU Furnace with Thermostat
Carbon Monoxide Detector
Converter/Battery Charger
Deep Cycle Battery
Dual 20-lb. Propane Tank
Fire Extinguisher
Furnace Cabinet with Registers
Furnace Duct with Registers
Glove Hangers
Heated Helmet Cabinet
If Your Put Your Trailer Away
If you don't keep your trailer on the road during the colder months, there are still several steps you should take to keep it safe in the winter and ready to go in the spring.
Do a maintenance check. Look for broken lights or electrical connections, areas of rust and corrosion, faulty hitch connections, tire abrasion, etc. If there's a problem that could get worse while in storage or that will need attention when you take it out, address that now.
Apply lubricants. Avoid new corrosion by applying lubricant to any areas that need it, including the suspensions, springs, wheel bearings and electrical plugs.
Remove any batteries or supplies that could leak, go bad, or freeze during the winter. You don't want to open your trailer up in the spring to find a mess or ruined supplies.
Remove personal items. Take out anything you might need while the trailer is in storage. While you're at it, make an inventory of anything you decide to leave inside. That way, if you're looking for something, you can check your list rather than opening the trailer to hunt around.
Lock and park your trailer. It is always preferable to store your cargo trailer inside a garage, shed, or other facility out of the elements. Sun, wind, ice and snow, and falling leaves and branches can all damage your trailer. If indoor storage isn't available, enclosing the trailer in a cover and parking it under a roofed area is a good second option. 
If you have more questions about seeing your cargo trailer through the winter, or want to look at more winter trailer options, reach out to your local Cargo Express dealer.