5 Top Snowmobile Destinations You Simply Can't Miss
Snowmobiling is not only fast and fun, it's a great way to enjoy the most beautiful scenery winter has to offer. As you skim over crystalline snow trails, through scenic woods, and over countless drifts, you can enjoy the outdoor air and spend time with family, friends, and other snow sport enthusiasts, even if you don't ski or snowboard.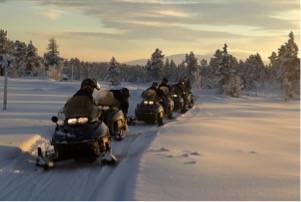 Guided snowmobile tours are a popular way to get started in the sport, as well as to discover trails, scenery, and wildlife you might not find or have access to on your own. Tours come in many fashions, such as; private or in groups, for beginners or more experienced riders, on groomed trails or off-trail terrain, on wide-open roads or meadow areas, up into the mountains or across rivers and streams—and, there are even moonlight tours. Operators can share a machine or pilot their own. Or, you can rent machines or bring your own in your very own Cargo Express snowmobile hauler.
Many winter resorts and outdoor enthusiast organizations offer snowmobile tours, and you can also find them through the internet. When you're looking for a tour, take the following factors into consideration before booking: 
Some tours welcome families, others have age limits on riders and drivers.
In many cases, the cost of the tour does not include snowmobile rental.
If you're bringing your own machines, make sure that's allowed and that there will be a place to park or store snowmobile trailers.
Tours can be guided or self-guided, and private tours can be customized to your group's abilities and interests.
Some tours allow riders, while on others, each person must drive their own machine. This is usually a safety measure.
You will need proper gear for safety and weather conditions, including helmets, boots, and suits. Check ahead of time what's required, and if you don't have an item, if the snowmobile facility rents gear.
Full-day tours usually include a stop for lunch. Find out if you need to bring your own food or money, or if the meal is included in your tour price.
Make sure you match the tour—and location—to your group's abilities. Rough terrain or high altitudes can compromise your abilities if you're not used to them. There are tours for every age and skill level, so be sure to choose one that will keep everyone safe and comfortable while they're having fun.  
5 Remarkable Snowmobile Tour Destinations to Try
Feeling adventurous? Coldstream Adventures in California will take you over private trails through Coldstream Canyon—up 2,000 vertical feet in the back country where the Donner Party made history, and the views of the Sierra Nevada mountain range will take your breath away.
Stay awhile. Northern Outdoors in Maine offers guided and self-guided tours through Maine's Interconnecting Trail System (ITS). Tours feature spectacular views, as well as varied terrain and wildlife—so bring your camera. For a leisurely paced tour that takes advantage of Maine's scenery and hospitality, try the 3-night, 2-day Inn-to-Inn package with stays at the Herbert Grand Hotel and Northern Outdoors Adventure Resort.
Take the 'Grand' tour. One of the most beautiful outdoor spaces—and a popular winter destination—is Jackson Hole, Wyoming. Here, a snowmobile tour will take you to Yellowstone, Grand Teton, Granite Hot Springs, plus waterfalls, wildlife, and other spectacular wilderness sites along the way. Many trips include meals, lodging, and gear rentals.
Alaska backcountry. Want the ultimate snowmobile trip? Head to Alaska for a multi-day adventure in the foothills of Denali and nearby frozen rivers. Guides provide training in driving and safety before setting out for 3-6 days of exhilarating fun. Stay in lodges and enjoy the rugged terrain.
Go green. The Green Mountains and forests of Vermont offer outdoor winter fun at lower elevations than in the west. Many ski resorts also offer guided snowmobile tour departures. One- and two-hour tours are common, and there are even tours just for kids.  Vermont offers great winter sports venues with the added charm of New England scenery.
Before you head to your next snowmobile destination, make sure you have a snowmobile trailer that will keep your machines safe and secure while on the road. Cargo Express trailers come in an array of sizes and styles—from an enclosed v-nose trailer to a 4-place snowmobile trailer. Plus, each one has been built to handle the most rugged conditions. Many do double-duty as ATV trailers, so you can use them year-round.
Cargo Express snowmobile trailers are packed with standard features, while offering options including a Heater Package and a Sledder's Package. Contact your local Cargo Express dealer to find the right snowmobile hauler for you.