CARGO EXPRESS HAS TONS OF OPTIONS FOR YOU TO CHOOSE FROM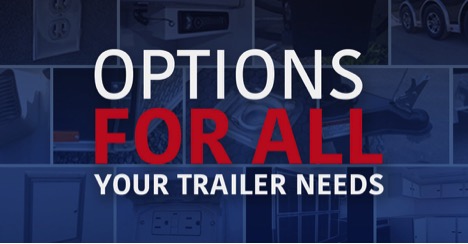 Popular wisdom says it's what's inside that counts. And, it's true most people choose an enclosed cargo trailer for strength, durability, and payload. However, there are times when looks matter, too. When you want to make a good impression on the road or at your destination, Cargo Express offers some snappy cargo trailer options and styles for you to choose from, including; trim, colors, rims, and other popular enhancements.
When your business or hobby requires you to convey a sense of style, white glove treatment, or a formula for success, your cargo trailer's appearance can make a big difference. Race car drivers, car haulers, vendors, builders, and anyone who moves someone else's cargo can benefit from some key exterior enhancements.
You can upgrade many of our basic models with individual options or an Appearance Trailer Package.
The Cargo Express Appearance Package offers durable and corrosion-resistant aluminum tread plate (ATP) trim in a diamond pattern. With this option, your trailer will definitely stand out from the crowd. 
This package also includes:

• ATP on V-Nose
• ATP on Front Corners of V-Nose
• ATP on Rear Header and Rear Cornerposts
• ATP Fenders
• 12″H ATP Exterior Roadside and Curbside Lower Bottom Panels
• One-Piece Aluminum Roof
• .030 Metal
• Radial Tires 
WHEEL UPGRADES ADD CLASS
It's amazing the difference wheel covers and rims can make depending on their color, metal or style. The Chrome Wheel Cover, Matte Finish Black, Modular Aluminum, Optional Gray, Turismo Aluminum, Standard White, and Summit Aluminum are just some of our trailer rim choices.
FENDERS ADD FLAIR
Fenders can add a sleek look, a little flash, or a polished finish. You can choose from aluminum or ATP in round, teardrop, Jeep-style, or spread-axle varieties.
COLOR CONVEYS PERSONALITY
There is no better way to express your personality—or that of your business—than through color. Many cargo trailers come in a variety of solid and two-tone colors. A trailer in sleek black, racing red, indigo blue or champagne shows that you have arrived—and that you mean business.
So, are you ready to show off your cargo trailer with style? Cargo Express dealers can help you choose the perfect combination of trailer and exterior options to make you and your business look great.