Warmer weather and longer days? That means it's time to get out onto the trails to start riding dirt bikes once again. Sometimes, there's nothing better than getting together with a group of friends, loading the trail bikes into your motorcycle cargo trailer, and hitting the road for some fast, gritty fun.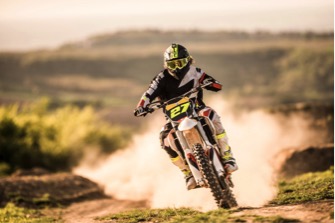 Cargo Express, manufacturer of enclosed pull-behind motorcycle trailers, wants you to have a great time while being safe on the trail. So, we've put together this list of must-haves for your dirt bike adventures.
1. Helmets. A helmet is a must, and although you can pick up a lot of dirt biking gear used, you should always purchase a helmet new. Why? Because once a helmet has been in a crash, its protective construction has been compromised. Today's dirt bike helmets come in lightweight, aerodynamic styles with intake and exhaust vents to keep you cool and comfortable. High-visibility colors, magnetic visors, and bold graphics mark the latest trends.
2. Protective clothing. There's a reason why today's fashion has picked up on motocross styles—they look cool. But when you're actually on your bike, that clothing has a job to do—keep you protected. Shirts and pants made of rip-stop fabric help you avoid cuts and scrapes while riding through brush and over rocky terrain. Flexible yet tough gloves will spare your knuckles from scrapes. And boots will help you grip the bike frame. Look for boots that are easy to put on and take off, with adjustable straps on the top and bottom, plus flat inner sides to help with gripping. Knee and elbow padding are recommended, and if you're racing, consider a hard-shell chest protector.
3. Eye safety. Even if you have a visor on your helmet, consider taking a pair of goggles with you, too. They'll keep dirt, sand, grit, and bugs out of your eyes. Regular sunglasses or eyeglasses are not enough, and glass spectacles can be dangerous.
4. Tracking. Experienced bikers know it's not only more fun to ride with a buddy—or a group—but it's also safer. Accidents happen, and people get lost. In any case, it's a good idea to carry some sort of tracking device with you. There are several cell phone apps that serve this purpose. But if you're going to be riding in the wild, consider a tracker that lets you call for help when you're out of cell phone range.
5. First Aid kit. Let's face it: you're not going out for a stroll. Spills are going to happen, and you're going to need some basic First Aid equipment to patch you up. Adhesive and cloth bandages, tape, antiseptic, gauze pads, tweezers, a cold pack, over-the-counter pain medication, and any prescription medication you need make up the basics. Sporting goods stores often sell compact First Aid kits that fit easily in a backpack.
6. Toolkit. Bikes break down and bits break off. To keep your bike going, take along a toolkit including, a basic set of wrenches and screw drivers; bolts, nuts, and a spare spark plug; duct tape, electrical tape, and zip ties; extra cables; a Swiss army knife; and clean rags.
7. Bike transport. With a couple of bikes and your gear, you're going to need a way to haul it all to the great outdoors. A Cargo Express pull-behind motorcycle trailer, like the XL Series, is packed with standard features like two-wheel chocks and a 6-piece floor E-track for a safe ride; a ramp door with spring assist and 12″ ramp door extension for easy loading; and spring axles and 4-wheel electric brakes for a safe, smooth ride. Options include closets and cabinets to hold your gear and helmets.
Contact your Cargo Express dealer to see our full range of motorcycle trailers and options to make your dirt biking experience the best that it can be.