Collecting classic cars is a fun hobby that can take you across the country and around the world. With so much to learn and so many ways to enjoy the pastime, keeping up with trends is part of the education process. Cargo Express, renowned for our custom car hauler trailers, has put together a list of some of the current classic car trends that can help you make the most of your stylish obsession.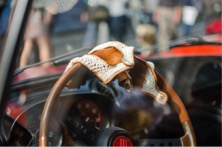 1. The vintage car experience. Immersing yourself in the time period and atmosphere of certain types of cars will become more popular, especially with the success of The Race of Gentlemen (aka TROG). This seaside (New Jersey) multi-day celebration of pre-War race cars and the early days of racing has spawned similar events, such as the RPM Nations in California, which celebrates early drag racing.
2. Boomer nostalgia. You don't usually think of a minivan as a classic car, but to each his own! Classic car experts say that Chrysler minivans and station wagons from the 1960s and 1970s—perhaps spurred by baby boomers' fond memories of family road trips—show rising prices. The Ford Maverick and Chevrolet Vega have also become collectibles, according to those in the know—possibly due to boomer nostalgia for their first cars? These models are fun to collect and still very affordable.
3. Vintage motorcycles. People have always collected bikes, but there is new appreciation—especially among younger collectors—for well-preserved or restored bikes from the 1980s and '90s. Newer bikes are bigger and more complicated; new collectors are recognizing the beauty of the simpler but well-made bikes of the past. They're a good value, too.
4. There will always be an England. There's something about an English classic car—think pre-War Bentleys and Daimlers—that fascinates us. And the popularity of Downton Abbey and other TV shows set in that era has only exposed more people to these beauties. Enthusiasts say they don't see the interest waning any time soon.
5. New collector demographics. Yes, the baby boom population still represents the bulk of classic car collectors. Some in the hobby worry that as the boomers age out, the hobby's popularity will peter out. But others see an upswing in two areas: younger collectors and women. Gen Xers and younger seem particularly drawn to postwar hot-rods and motorcycles. Women today influence 85 percent of car purchases and drive more than 50 percent of autos sold in the U.S., according to a report in the Chicago Tribune. Also, since 2012, women have held more driver licenses than men. So, it makes sense that more women have started participating in classic car collecting. The vintage car events mentioned in trend #1 are also attracting a younger and more diverse group of hobbyists.
Looking for an auto hauler or race car trailer to transport your precious vehicles? No one has a better selection of enclosed race car trailers, motorcycle trailers, and auto trailers than Cargo Express. From professional racing gooseneck cargo trailers to cargo trailers for cars, our trailers come with generous standard safety and quality features, plus a wide array of customizing options to fit any budget.
Contact your Cargo Express dealer to see our full range of cargo trailers and options to protect your classic car investment.