Choose the ProSport Combo Trailer from Cargo Express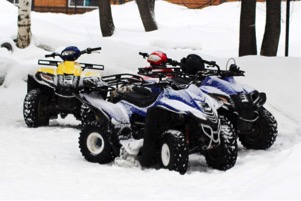 Some people can't get enough toys. ATVs, street bikes, cars, snowmobiles—if it's made for fun in the rugged outdoors, they have to have it. And that's great. But, how do you haul all those different vehicles when you're ready to play? Choose a combo trailer like the ProSport from Cargo Express, and you'll have one of the best cargo trailers for the job.
Combo trailers combine snowmobile trailers and car trailers into one. The best cargo trailer models feature durability, strength, and style so you can play hard and look good, even on your way to the trails.
The versatile ProSport 8.5' wide auto/snow hauler from Cargo Express offers professional specs all the way around. It comes in interior lengths up to 28.8' with a payload capacity up to 5,880-lbs. A V-nose design, 15" tires, side door, beavertail, and tie downs are all standard, as is tube mainframe construction, a one-piece aluminum roof, screwless aluminum exterior, and an automotive undercoating.
For style, these standard features can't be beat: 
White vinyl wall and ceiling liners
ATP front nose and fender flares
A choice of 8 colors or two-tone exterior 
In a top-of-the-line ATV/snowmobile trailer like this, you can also expect—and get—the most functional features to make loading, fueling, and secure transport a no-brainer. 
Standards include: 
Dual ramp doors with spring assist
Fuel door
Recessed D-rings
36″ Entry Door with flushlock and recessed step 
The Cargo Express ProSport also offers a full range of options to customize everything from lighting to cabinetry to extra recessed tie-downs.
However, if you really want to make sure your car-ATV-snowmobile trailer keeps you playing hard wherever you go, you'll take advantage of the heater package, which includes: 
34,000-BTU furnace with thermostat
Carbon Monoxide detector
Converter/battery charger
Deep cycle battery
Dual 20-lb. propane tank
Fire extinguisher
Furnace cabinet with registers
Furnace duct with registers
Glove hangers
Heated helmet cabinet 
When you put together the form, function, strength, and durability of the ProSport with all your favorite toys, you'll have one versatile toy hauling trailer to haul them all!
Contact your Cargo Express dealer to see our full range of cargo trailers and options to protect your extreme adventure investment.