Tips for Attracting Customers in a Custom Concession Trailer from Cargo Express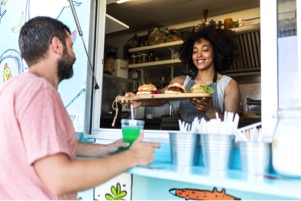 Mobile concession and vending businesses are popping up all over as food truck events and outdoor festivals become popularized in cities and towns across the US. If you are looking to start a food truck or other type of concession business—or need to upgrade the vending trailer you currently have—Cargo Express has some tips for choosing and customizing your new concession trailer. 
First, consider your business needs. The types of mobile concession businesses vary widely, from selling gourmet snow cones and doughnuts to ethnic foods of all types and standard fair food such as hot dogs, pretzels, and popcorn. Some people even use these concession trailers to sell clothing and other merchandise. 
The type of concession business you have and number of employees will determine how large your vending trailer needs to be, the number of windows, whether or not you should have a porch, how much refrigeration and freezer space you need, plus decisions about sinks, storage, and even flooring.
Cargo Express Trailers offer a range of basic floorplans and sizes, plus standard features including tube mainframe construction, four-wheel electric brakes, a one-piece aluminum roof, dome lights, and a choice of ramp door or double rear doors, among many others.
To customize your new concession trailer, we recommend you consider the following popular options:
A lift-up awning door or double lift-up awning doors with gas jacks. Awnings provide shade and protection from the rain for your customers and keep your workers cooler, too. But, because awnings stand out from the trailer, they can help potential customers see your trailer by literally making it stand out.
Vending trailers with a porch awning. Popular among barbecue vendors, the porch awning option allows you to cook outside while your staff preps inside. A porch awning also makes sense for vendors who like to give out samples to attract customers or those who demo their wares.
Refrigerator/microwave combo. Even in a large concession trailer, space is at a premium. This built-in feature does double duty in a compact space.


Sink counter. A water source is essential to most food vendors for hygiene and clean-up, and this counter full of sinks will keep your business running smoothly with maximum cleanliness.
Folding tables. Excellent for prep, these tables fold down when you need them and fold up against the wall when you need them out of the way.
Windows. For serving, ventilation, and vision, you need windows in all the right places.
Flooring. Choose checkerboard for a retro restaurant look or consider raised diamond PVC or raised circular coin flooring for good looks and plenty of foot traction. 
Exterior colors. Another way to attract attention to your concession trailer is to choose an exterior color that stands out and suits your business's character. Cargo Express' standard upgrade colors include: charcoal, silver, pewter, and champagne. Premium upgrade colors include blue, red, and brandywine. Or, go for two-tone to add real interest.
You may have imagined your food vending trailer with many of these options, or maybe you had no idea what was possible. Your local Cargo Express dealer will sit down with you and help you choose the right combination of options—including these and many others—to customize your concession trailer precisely to your needs.