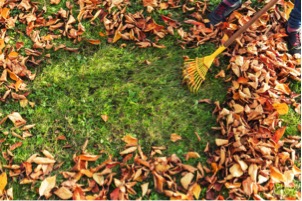 Falling leaves and shorter days signal one of the most popular times to make landscape changes: fall. From yard clean-ups to the addition of lighting features, prepping for the "off" seasons is easier when you have a cargo trailer to move plants, hardscaping materials, tools, and machinery.
Cargo Express offers the following tips for making your yard—or your landscaping clients' yards—ready for late fall activities and the winter season.
1. Manage fallen leaves. Drifts of colorful fallen leaves can look charming, but when they get wet, they can pose a slippery hazard to anyone who steps on them. Rake and dispose of leaves at your local yard waste center. Or, spread them evenly across the lawn and use a mulching mower to cut them up finely. You can leave them on the lawn as fertilizer or rake the shredded leaves into beds as mulch.
2. Add lighting. If the landscaping doesn't already have lights marking sidewalks and pathways, put them in now. Solar lights are easy to install, and they make it safer to walk the property at night, especially with earlier sunsets. Plus, lighting highlights the other landscape features after dark.
3. Make repairs. Check sidewalks, driveways, steps, drains, and downspouts for cracks and loose or missing pieces. Make repairs now before the cold weather sets in to avoid further damage, as well as for safety. This is one of the most important steps to fall landscape success that carries into other seasons. 
4. Consider adding a fire feature. Portable or built-in fire pits extend the outdoor season as friends and family gather around to socialize and snack. Just make sure you follow fire codes before you begin.
5. Plan for winter interest. With leaves off the trees and flowers done for the year, keep the landscape interesting with evergreens and rockscaping. Fall is the best time to plant trees and shrubs, as the soil is still warm for the roots to grow and develop a healthy root system. Another simple way to add interest is with large rocks. Even one large boulder can catch the eye and fill in an empty spot—and you don't need to water it!
Whether you're moving boulders, transporting yard waste, or hauling lighting and hardscaping, an enclosed cargo trailer can help with all your fall landscaping chores. Cargo Express landscaping trailers, like the Pro Series, combine solid commercial-grade construction and aerodynamic design with professional features like a side entry door and a range of sizes. And, because these landscape trailers are enclosed, you can store tools and machinery in them when not in use.
Contact your local Cargo Express dealer for more information on finding the right enclosed trailer for your home or business.