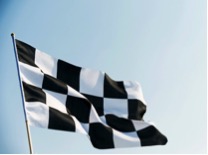 Whether you're an auto racing pro, kart racer, or classic car owner, or if you have more than one vehicle to transport, a stacker trailer can be your best friend. Enclosed stacker car trailers can haul multiple cars, plus provide space to store tools, equipment, spare parts, and racing gear.
Cargo Express features two styles of stacker trailers, a mid-line model and a premium trailer for pros. Both offer standard features and plenty of options that will haul your vehicles safely, securely, and with plenty of style.
Fusion Enclosed Race Car Trailers
This mid-line enclosed race trailer combines all the features you need to transport your race cars, karts, or classic vehicles—all at a great value. 
The Fusion doesn't skimp on looks: this 8.5-foot-wide racing trailer comes in eight colors (with an optional two-tone upgrade), has standard ATP fender flares and front corners, a white vinyl ceiling and wall liner, and a screwless exterior.
This versatile model also delivers the strength and durability to protect your cars on the road.   
Standard features include:
Tube Main Frame Construction
16″ O.C. Frame
16″ O.C. Sidewalls
16″ O.C. Roof Bows
Ramp Door with Spring Assist & 16″ Ramp Door Extension
48″ Heavy-Duty Entry Door with Flushlock and Recessed Step
Beavertail
(4) 5000# Recessed Bolted D-Rings
Automotive Undercoating 
Popular options include: 
48" RV roadside escape door
Surface mount rope rings
Extra square D-rings
E-Track surface or recessed in wallsand floor 
Pro-GT Racing Trailers
When you need a premium, high-endprofessional race car trailer, you can't do better than the Pro-GT. Tough and handsome, it shows you've arrived—and everyone on the track will take note.
The Pro-GT takes everything the Fusion has and ramps it into high gear. 
Standard features include:
White vinyl insulated ceiling liner
"Truck body" extrusion
Stainless-steel front insert
Stainless-steel rear corners and header
Stainless-steel front corners
Aluminum fender flares
24″ Stoneguard
Heavy-duty ramp door with spring assist & 16″ ramp door extension
Recessed horizontal cam lock on ramp door
48″ Heavy-duty entry door with flushlock and recessed step
However, that's just the beginning. From floor to ceiling, you can upgrade this enclosed race trailer to include a white aluminum ceiling, L-shaped or straight cabinets with overhead, aluminum walls, surface or recessed E-track, ATP or rubber treadplate floor, an underfloor recessed spare tire compartment, and so much more. Your cars and your gear will travel in style, safe and protected from the elements and the road. 
The name Pro-GT says it all—this is a race trailer made for pros, with the toughness a pro racer demands and the premium looks they deserve.
Your local Cargo Express dealer can help you choose from our fleet of auto haulers to find the one that's best for you and your cars, whether you race, ride, or show.