Cargo Express Offers Three Lineups to Think About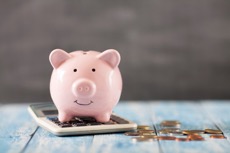 An enclosed cargo trailer has dozens of uses that can improve your business and enhance your lifestyle—from hauling to storage to enjoying the great outdoors with all your toys. Best of all, cargo trailers can be surprisingly affordable without sacrificing quality.
To help you make an informed decision, we're highlighting three of our most affordable cargo trailers, each with loads of standard features and attractive options. And, to find the price of any of the following trailers in your area, reach out to your nearest Cargo Express dealer.
The EX Series enclosed cargo trailer is your go-to for everyday light-duty hauling. Whether you need a trailer for a small landscaping or moving business or for recreational activities like camping, the versatile EX Series fits most any budget.
Let's start with the EX 5' x 8' and 5' x 10' cargo trailers. Lightweight and nimble, the basic EX carries a 2,000-lb. payload on a tube main frame with a ¾" floor. The one-piece aluminum roof stands up to rain and snow, preventing leaks, while the aluminum exterior resists rust and maintains its good looks with minimal upkeep. 
You get all those features plus more space when you expand to the 6' x 10' and 6' x 12' cargo trailers. This width (and the 7-footer) includes double rear doors and a 32″ entry door with cam bar. Need even more cargo room? The 7' models come in 14- and 16-foot lengths. For heavy-duty loads, we recommend upgrading to tandem axles with four-wheel electric brakes.
Customize your EX with options, such as upgraded ramp doors and extensions, an aerodynamic 18" front wedge, stabilizer jacks, roof vent, and eight stand-out exterior colors.
Nimble and durable: that's how you like your snowmobiles, and the Apex enclosed snowmobile trailer is built to provide the same characteristics in an economic package. 
The lightweight aluminum clamshell design comes 8.5'-wide in two lengths. But, while the Apex has a streamlined profile that makes it easy to maneuver, there's nothing skimpy about its construction or ability to stand up to both the road and the elements. Consider these standard features: 
Rear Stabilizer Jacks
2,000-lb. Top Wind Jack w/Dolly Wheel
16" H High-Performance Kickplate
.030 Exterior
One-Piece Aluminum Roof
Stoneguard
Rear Ramp Door w/Spring Assist
(6) 2,500-lb. Recessed D Rings 
Options include a two-tone exterior, side door with flush lock, and a hingeless aluminum ramp extension, among many others.
When you're looking for an economical snowmobile trailer that tracks with your sporty lifestyle, the Apex shreds the rest.
When you require a heavy-duty, commercial grade cargo trailer at a great price, the CXT Extreme Enclosed Cargo Trailer series packs a tremendous punch.
Start with standard torsion axles, a feature you typically have to pay extra for. When you're hauling heavy cargo, torsion axles produce a smoother ride and reduce maintenance issues over time.
The CXT Series comes in a variety of sizes with tube mainframe construction and 16" on-center roof bows, sidewalls, and frame, providing extra strength. Add in the standard one-piece aluminum roof, high-performance walls, ¾" floor, and .030 aluminum screwless exterior—all considered optimal in enclosed cargo trailer construction—and you have a trailer that earns its "extreme" name while delivering value.
With nine colors and a two-tone option plus upgrades like a two-piece ladder rack, ramp extension, and rear stabilizer jacks, your CXT trailer will arrive in style and ready for action.
Cargo Express offers so many trailer models and configurations, all with a limited three-year warranty, there's sure to be one to fit your budget and hauling needs. Contact your local Cargo Express dealer to find the one that's right for you.