Premium Entry: Options for Cargo Trailer Doors
It's time we talked about the doors. No, not THE Doors. Your cargo trailer's doors. Whether you're an entrepreneur who uses their cargo trailer as a concession stand, someone who likes to take their classic cars on tour, or a day-to-day hauler who wants to maximize their convenience, cargo trailer doors come in many styles and sizes to fit the bill. And while there are always custom options available, here are a few of the most common types you can utilize on your enclosed trailer.
Ramp Doors
Every trailer's bread and butter. Ramp doors make it easy to load and unload heavy objects with ease. Pulled down from the top of the trailer to create a subtle ascent into the interior, ramp doors are made of the same sidewall materials found in the trailer's construction to ensure they can handle the payloads crossing the threshold. And for Cargo Express trailer owners, most ramp doors come with Spring Assist to help with the lowering and raising of the door, as well as to offset the pressure placed on the door.
And depending on the type of ramp door you choose; you can typically add an extension that helps level the door with the ground for a seamless transition. You can also add traction strips to provide extra footing as you navigate the entryway with awkward objects in tow.
Side Doors
Side doors allow you to enter and exit the trailer without worrying about lowering the ramp, securing any cables, or handling large latches. Ideal for owners who are using their cargo trailer as a concession stand or mobile office, these work just as you'd imagine. Side doors are best when paired with a ramp door to allow for easy entry and exit as you load in cars, toys, or large objects. Plus, when you're grabbing something quick from the trailer (tools, lawn care equipment, boxes, etc.), who wants to have to deal with the ramp every time?
Of course, you can always customize the door to fit your needs, even opting for a window or vice lock (with key entry) if you so choose.
Escape Doors
Think Lamborghini doors, but for showing off the interior of your trailer. Sure, these are also side doors, but they make a much bigger impression at car shows and at county fair stands where you can greet customers without ever leaving the trailer. And, as their name implies, getting in and out of the trailer without hassle is a key element. For instance, the Cargo Express Ultimate Escape Door pulls double-duty as an awning and an entryway big enough to fit almost anything you choose to haul along.
You can also choose double side doors or equip various styles with freezer strips and aluminum pull-out steps for safety.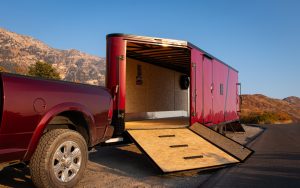 Access Doors & Windows
These smaller, more niche doors are available for trailer owners who need their rigs to perform specific functions. Aside from giving you easy access (hence the name) to specific areas or compartments, these can also double as awnings and concession booths, too. Closed and lockable fuel doors are a popular option for haulers.
Not quite "doors," your enclosed trailer can be customized with a few window options to complement your haul of choice. For concessionaires, a radius slider window is perfect for bringing in extra sunlight and ventilation during the day.
For a full list of the trailer options, you can add to a Cargo Express, head here.
You can also visit your local Cargo Express dealer to customize your enclosed cargo trailer with the right door(s) for your hauling style.