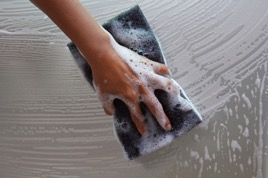 At Cargo Express, we offer two types of trailer construction: steel and aluminum. And while there are benefits to each, it's cleaning an aluminum trailer that we've got our advice set on this time. After all, keeping your aluminum nice and shiny is a question we get a lot.
Wax on, wax off
As much as it helps with Karate, waxing can do wonders for your cargo trailer. To avoid any discoloring or dulling of the exterior, you'll want to treat and polish the trailer after any washing and drying. Just utilize any number of polishes designed for aluminum by applying a small portion to the trailer, then rubbing it in with a rag. Then, using a separate rag, buff it out while the polish is wet. This will take some time as you repeat this method across the trailer, so get the jams going, enlist some friends or family, and relish in the Zen-like mode you'll find yourself in.
To avoid having to polishing too frequently, apply some paste wax after you're done-just a coat or two will do.
Bath time is important
An acid bath can be the difference between a regular old clean surface and a shiny, resaleable surface. Naturally, oxidation will occur over time, but don't worry; your trailer will still work as intended as this happens.
While some owners opt for hydrofluoric acid, this can be dangerous due to burns and damage to the aluminum. So, use caution, wear proper safety gear, and follow any instructions provided by the supplier closely. We suggest skipping this route and opting for a professional washing service instead. They'll know how to properly apply the acid bath and avoid any damage.
But, if you insist on giving your trailer an acid-like bath yourself; citrus cleaners are way less harsh.
Taking care of the day-to-day
As we mentioned up top, the best way to maintain the cleanliness of your trailer is to regularly clean it between hauls. Thanks to the durability of cargo trailers, a simple sweep and hose down can do the trick—meaning harmful chemicals and debris won't continue to build up in crevices.
If you're after a deep clean, use a mild soap and scrubbing brush (or mop) to get after any dirt and grime. And for those extra messy jobs, a power washer isn't just effective—it's fun to use.
Trailer cleaning products
Don't be afraid to use RV cleaning products, as those are designed to be safe for different exteriors typically coated in fancy designs and expensive paint. By visiting your local home improvement store, you can find all sorts of products, like: brushes, microfiber cloths, seal conditioners and protectants, buckets, hoses, and waxing agents.
Frequent upkeep is essential. Washing, polishing, sweeping, etc. all helps maintain the luster your aluminum trailer was built with, so a little TLC goes a long way. In addition to elongating the trailer's service life, it also helps with resale value should the time come. And the fact that aluminum trailers are resistant to rust doesn't hurt.
As always, if you have questions (cleaning/upgrading/models/etc.), don't hesitate to reach out to your local Cargo Express dealer.