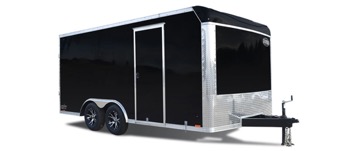 Extreme isn't a term usually associated with cargo trailers, but when it comes to the CXT enclosed trailer, it's more than appropriate. To be the best, you have to offer the best. That's why this commercial grade trailer delivers extreme value, extreme standards, and extreme towing capability no matter which model you choose. How? With… 
A wide standards list that's packed into 10 compact, yet heavy duty, models. And, in addition to offering 7- to 8.5' widths and a wide variety of payload capacities, the CXT protects cargo with a 16" O.C. frame, sidewalls, and roof bows as part of its tube main frame construction. 
But, that's just the tip of the iceberg when it comes to this cargo trailer. Aluminum tread plating protects the rear and front corners, as well as the fenders, while a 24" stoneguard helps prevent rocks and debris from damaging your investment on the road. 
What about the details? Glad you asked. The CXT is all about durability, so coming standard are high-performance walls and a ¾" high-performance floor. Then there's the .030 aluminum screwless exterior, aluminum framed double rear doors, and aluminum framed door with flush lock.  
14 trailer models to tow it all with 6' 6" of interior height across the board. That means, you can load up that antique wardrobe, the front loader you're using for the weekend, or even that extra-large framed poster of Bob Marley that you've had since college.  
All models bring 4-wheel brakes for a safer commute. But, with dimensions all the way up to 8.5' x 30', the CXT gives you the custom tow you need—whether that's more interior width, hitch weight, or overall length for various tasks and cargo. Not to mention (but we will anyway!), your choice of nine colors that range from classic white, silver, or black, to more noticeable options like red, brandywine, and indigo blue. 
Torsion axles come standard on all CXT enclosed trailers so you can enjoy smooth transportation for your more fragile of cargo types. So, what do torsion axles do for me? We're glad you asked about that, too. Trailers with torsion axles require less maintenance, which saves you time and money. And, because they're mounted to the frame, they reduce harmful road vibration and create stability across the four trailer wheels. The best part, of course, is that while other trailer manufacturers will make you pay dearly for this upgrade, Cargo Express does not. 
Here are some popular options typically paired with the CXT:
Ramp Door Upgrade
Ramp Extension
Spare Tire ST205/75R15 or ST225/75R15
Surface Mount Rope Rings
5,000-lb. D-Rings
Two Tone Trailer
Bright Aluminum Between Two Tone
Rear Stabilizer Jacks
Cam Bar on Side Door
2-Piece Ladder Rack 
For a complete list of customizable trailer options, click here. 
Find your local Cargo Express dealer to see the CXT for yourself.