Did you know that you automatically gain the Tredit Advantage Program otherwise known as Tredit Tire Roadside Assistance Program, if your Cargo Express cargo trailer has Tredit Tires on it?
Cargo Express is proudly partnered with Tredit Tire and Wheel Company. Through this partnership, any Cargo Express customer that purchases a cargo trailer with Tredit tires is eligible for the Tredit Advantage Program on the Tredit Advantage App.
Download the Tredit Advantage App here:     



With the Tredit Tire Roadside Assistance Program there are no membership fees, no hidden costs, and one upfront flat rate price that is due once your service has been completed. This program do not just cover your trailer. It also covers your tow vehicle!
Through Cargo Express' partnership with the Tredit Advantage Program, if your cargo trailer has Tredit Tires, you will be qualified to request immediate assistance 24/7/365 – anytime anywhere – through the Tredit Advantage App. You will get real-time status updates and be able to track the arrival of the service provider. You will also receive reimbursement of up to $450 for the first 4 years after buying your trailer.

If you need a tire change, a tow truck, jump start, gas delivery, key replacement or if you are locked out of your vehicle, Cargo Express has you covered through the Tredit Advantage Program. Download the app, enter in what you are in need of assistance for and let the app do the rest. The app will automatically detect your location and call the closest tow truck. You will get a confirmation with who is coming and when they will arrive. You can also contact the driver directly anytime during the roadside assistance through the app.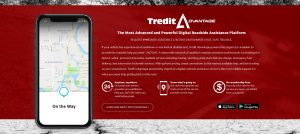 **Standards and features vary by plant and location. If your Cargo Express trailer does not have Tredit Tires on it, please contact our customer service and parts department for further assistance on resources available to you. They can be reached M-F 8 a.m. – 5 p.m. EST.